2018 Monopolar Bipolar Tripolar RF beauty system
Product Description
VCA LASER TECHNOLOGY

Theory  of Medical CE approval rf skin care
RF : adopt 1-40Mhz adjustable frequency produces heat when the tissue's electrical resistance converts the electric current to thermal energy deeper within the dermis. Initial collagen denaturation within these thermally modified deep tissues causes the immediate tissue contraction. Subsequent neocoll agenesis then further tightens the dermal tissue and reduces wrinkles. 

635nm diode laser : can heat up the skin to reduce impedance to support the RF penetrate deeper. it produces benign stimulation which can accelerate the collagen and elastic fiber renascence to speed up the cells metabolism. 
Applications  of Medical CE approval rf skin care
1. Fat dissolving & Body shaping
2. Promote tissue metabolism,whiten skin
3. Improve orange peel organization,Repair pregnant lines
4. Active collagen, Face lifting, strengthen the skin elasticity
5. Remove epidermis and deeper wrinkles
6. Anti-aging for face and body
7. Alleviate eye pouch 
8. Pore missing 
9. Promote blood circulation,Reduce fatigue.
Handpieces  of Medical CE approval rf skin care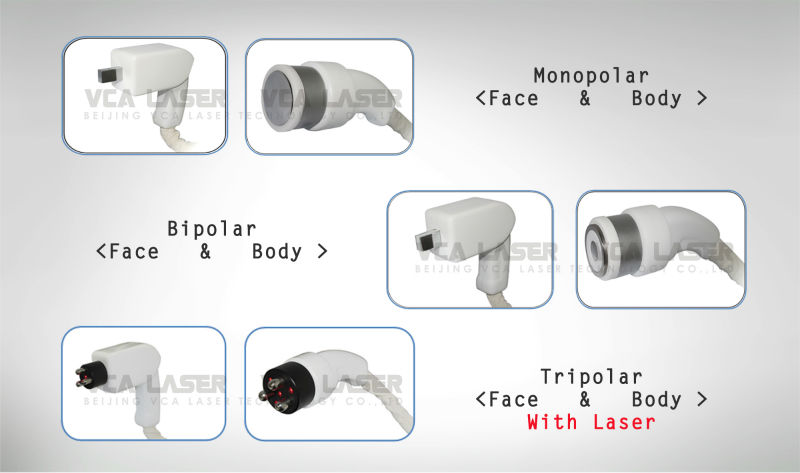 Features  of Medical CE approval rf skin care
1. Cooling Monopolar RF, Cooling Biopolar RF and Tripolar